Linktree Review: Advantages, Disadvantages, Alternatives
In this article, you'll discover everything you want to know about Linktree.
You'll find an answer to questions such as:
What is Linktree
How does Linktree work and what people use it for?
Is Linktree safe? Should you use it on your Instagram?
What are some FREE Linktree alternatives?
If you want to find out anything about Linktree, this article is your ultimate stop.
💡 Looking for a Linktree alternative? The best one so far we found: bio.fm
What is Linktree?
You know that you cannot add clickable links in Instagram, right?
For instance, you cannot click an image and be redirected to a certain website.
The only place where you can add ONLY ONE LINK is the Instagram bio section.
This means that if you want to share more than one piece of content, you:
either keep changing your bio link
or you create a micro webpage that contains all your links.
Since the first option isn't quite productive, we're left with option number 2.
And this is exactly what Linktree (and pretty much all the other link in bio tools) does.
Linktree is a little Instagram tool that helps you create a micro webpage where you can put all the links you want to share.
Now let's get under Linktree's hood and see how it works.
How does Linktree work
First, you have to create an account. It's free, but you have a lot of limitations (we'll talk about those in a bit).
You can do it with your email address or you can sign up directly with your Instagram profile.
Next, you start adding the links where you want to send your followers to.
Finally, you copy the link of your Linktree profile and paste it in your Instagram bio section.
Now, when people go to your Instagram bio and click that link, they will see a micro web page with all the links you've previously created.
Is that all that Linktree does?
Mainly yes, Linktree's purpose is to help you add more than one link to your Instagram.
But you still have some additional features.
For instance you can:
Highlight your most important links
See daily clicks and views
Measure link performance with Click-Through Rates
Link to all your social platforms and website with Icons
Customize your Linktree colors, button styles and fonts.
Of course, all these extra features are available only in the paid plan.
Which leads us to our next question: how much does it cost, right?
Let's see Linktree's pricing plans.
Pricing plans
You have 2 pricing plan options:
A free one
And a paid one for $6/month
What can you do with a free plan?
With the free version you can:
Add unlimited links
See very basic Analytics stats
Choose between basic themes
What does the paid version offer?
At first sight, it seems that you get a lot of extra features in the PRO plan.
But if you analyze it carefully, you can boil everything down to three options that are actually useful:
Analytics/stats
Customization (colors, fonts etc.)
Scheduled posts
The rest of the items are either just a breakdown of these three main options or they're some "filler" features that are meant to make the pricing page look good.
Is this a good price for this kind of tool?
Well, let's be honest, 6$/month is the price of two Starbucks Double Espressos, right? So pricing isn't (or shouldn't be) a criteria for deciding whether Linktree is worth it or not.
So the question is, can you get a better deal with some other link in bio tools?
Let's see what are your alternatives.
Linktree alternatives
There are a lot of link in bio tools out there.
The pricing is merely the same: free version and a couple of dollars per month for the Premium versions.
Some of the most known Linktree alternatives are:
bio.fm
LinkinBio
ContactInBio
TapBio
LnkBio
You can check out all these Linktree competitors, but we've already done the hard work for you.
We've asked all our 5000+ community members what is their favorite link in bio tool (and why!).
The tool that got the most votes from our community is bio.fm.
It works pretty much the same as Linktree. You create a "micro webpage" and add that link in your profile.
The pricing is also similar.
But the big difference between bio.fm and Linktree is that with bio.fm you can share almost anything you want and not just links.
You can create clickable Instagram posts.
You can embed Youtube videos that people can watch without leaving Instagram.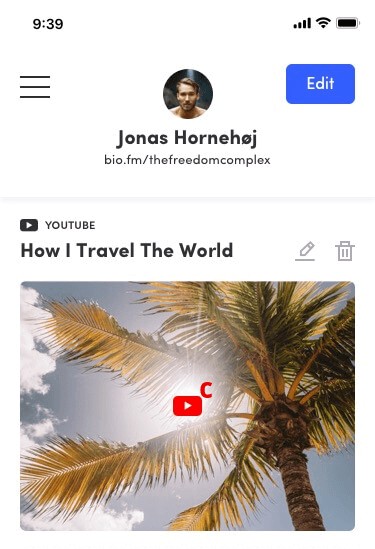 Or you can add even a Spotify (or other music streaming app) playlist right in your bio profile!
Is it worth it or not?
Of course, we're biased here. You already know our community voted for bio.fm.
But here are some questions that can help you (objectively) choose between Linktree and other link in bio apps.
The number one question you should start asking yourself is what problem do you want these tools to solve for you?
In our case, what do you want to use Linktree for?
Do you need just a place to house all your links?
If you don't care at all about the visual aspect of your Instagram bio, pretty much any tool will do its job, including both the Linktree and bio.fm free version.
But if you want a slick look that will attract your followers to do what you want them to do, then Linktree is probably not what you're looking for.
Here's what I mean by that.
Let's say you want to get your Instagram followers to connect with you on all your other social media profiles.
With Linktree, you would have just a dull list with links.
Here's how it looks on bio.fm for instance.
Do you want your followers to engage more with you or your business?
If you want to make your Instagram bio more attractive or if you want to connect with your followers, then Linktree might not be your best option.
For instance, what if you want to share your latest Youtube video?
With Linktree, your only option is to send people off Instagram.
But you already know that the more complicated you make it for people to reach your content, the less traffic you will get.
With bio.fm on the other hand, you make it easy for people to consume your content.
As we've seen in the examples above, people can watch your videos directly from your bio profile without leaving the platform.
Or let's take another example.
What if you want to get your followers more engaged with your brand by asking some feedback?
With Linktree, your hands are tied because all you can do is add some links.
With bio.fm you can easily get people engaged by creating a feedback poll in no time.
Or maybe you just want to add that "quelque chose" to your profile that will help you stand out and better connect with your friends or customers.
Again, Linktree can't help you here.
With bio.fm on the other hand, you can add images, videos and even GIFS to your Instagram bio profile.
The bottom line is this: if you don't care at all about the visual aspect, it doesn't matter if you go with Linktree or other apps.
But if you want a clean, attractive profile, you should at least try some other apps too.
Linktree in a nutshell
If you're like me and you want the short version of the story, here's all you need to know about Linktree, summed up in a few lines.
1) Instagram lets you add only ONE CLICKABLE link in your bio. Linktree is like a box where you can put all the links you want to share with your friends, followers or customers.
2) Linktree is cheap but very limited. All you can do is add some links.
3) Other Linktree alternatives such as bio.fm allow you to create a more visual appealing profile
4) Also, bio.fm offers you a lot of features that allow you to interact and engage with your followers without having them to leave Instagram.
5) Our community loves bio.fm because it's super easy to use, its aesthetics rocks and it offers you flexibility. Plus it takes under 1 minute to set up an account. Click here to get started.
Have you tried any link in bio tool similar to Linktree? Share your experience with us! 🙂