Stormproxies Review – How Good Is It? Learn Here
Are you seeking an all-encompassing Stormproxies review? Well, here it is!
I've tried its proxies so that I can report my findings to all of my readers.
Stay tuned, because you're about to learn:
What is the quality of Stormproxies' services?

Is it worth buying?

How can their proxies help you?

Are there any better alternatives?
Shall we begin?
What is Stormproxies?
Stormproxies is one of the most popular proxy providers on the market. It's not as giant as some other names in the industry, but I decided to give them a shot.
They sell three main kinds of proxies:
Private dedicated proxies (datacenter IPs)

Backconnect rotating proxies (a mix of the datacenter and residential IPs)

Residential rotating proxies (residential IPs)
Their private dedicated proxies are primarily for general use, like accessing geo-restricted websites or internet traffic monitoring. These are what they call "General Private Dedicated Proxies."
Next, they have "Ticketmaster & Tickets Sites" proxies that you can use for shopping bots on sites like TicketMaster, TicketFly, MLB, AXS, StubHub, etc.
And in case you'd like to narrow down your use case even further, you can get Stormproxies' "Sneaker Proxies" that you can use for all the major sneaker sites and bots.
If you want to use automation tools for your social media without the risk of getting banned, they have specialized "Social Sites proxies" for the following platforms:
Facebook

Instagram

Tumblr

Pinterest

Twitter

LinkedIn

Snapchat

Pokemon Go
Lastly, their "Backconnect rotating proxies," or rotating reverse proxies, are good for any requests where you need to do market research. What I mean by this is:
Ad verification

SEO research

Web scraping

Travel fare aggregation, etc.
Best Stormproxies Features
After trying out Stomproxies, I decided to tell you about its primary features that I liked. Truth be told, they a bit overpriced and not as broad as I'd like, but here goes:
Locations
The proxy pool you'll get with Stormproxies depends on the type of proxies you choose. 
Their private dedicated proxies are limited to the USA – more precisely, to Los Angeles, New York, or Cheyenne.
Backconnect rotating proxies will give you four options to choose from:
100% USA proxies

100% EU proxies

50% EU + 50% USA proxies

100% worldwide proxies
There are over 70,000 rotating IPs in the backconnect rotating proxies from their 200,000 proxy IP pool, which is good. But do you notice how they don't mention any city-specific targeting? Yeah, I didn't like that, either.
Finally, residential rotating proxies are either USA or EU-based and there are around 40,000.
As they claim, all of the IPs in their proxy pool are replaced every 7 days.
IP Rotation
Stormproxies' private dedicated proxies come with static IPs. These are the best if you are a company that hosts your own websites or wants to monitor workers. 
Using a static IP address is also good when you are doing shopping because you want your address to be the same for the whole checkout process.
The other two types (backconnect rotating and residential rotating proxies) have rotating IPs. Backconnect rotating proxies generate a new IP on each HTTP request, and residential proxies change IP with each port or every 3 or 15 minutes.
Unlimited Bandwidth
Stormproxies comes with unlimited bandwidth because their tariff plans are based on the number of open ports, proxies, and threads (you can check out their pricing below).
Trial Period
Stormproxies does offer a trial period, but honestly, it's so limited that you cannot decide whether you want to use their proxies after the trial.
Firstly, it is available only on the smallest and cheapest packages, and secondly, it lasts only for 24 hours. 
That's not enough time to try out the features, let alone see how they work. Only after I purchased one of their monthly plans did I manage to get a glimpse of its performance.
Stormproxies Pricing
All of the Stormproxies' monthly tariff plans come with a certain combination of proxies and ports that you get.
Have a quick glance at some of the most popular ones: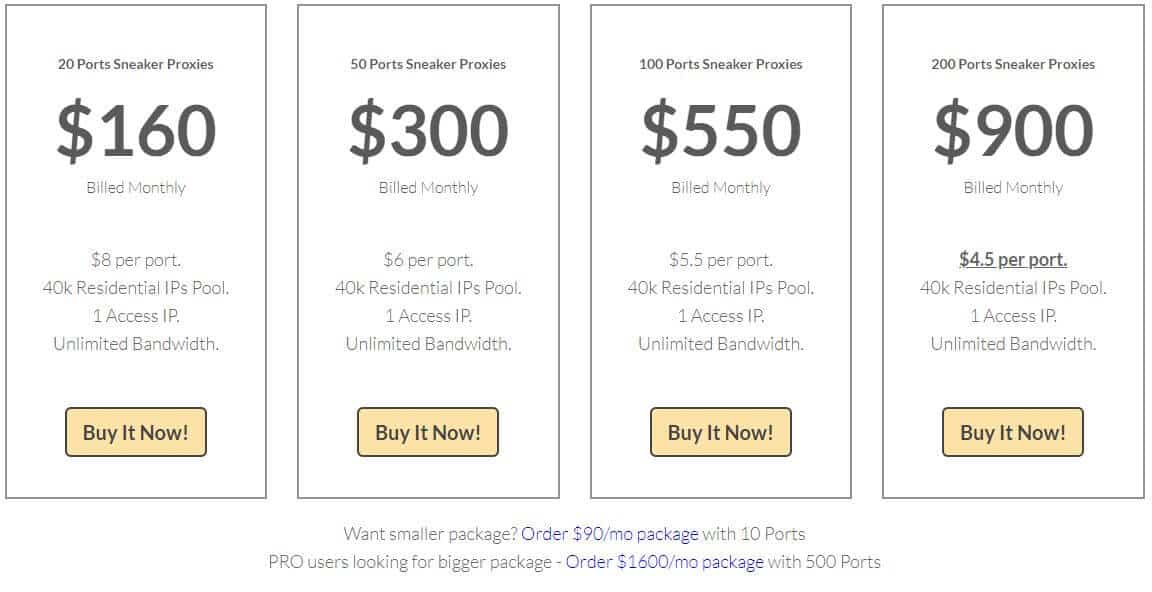 Some of the Stormproxies' private dedicated and residential packages can go up to $2,200 a month.
The are other expensive pricing plans. For instance, some of the "special" sneaker proxies are $1,600 per month. These prices are astronomical compared to their value. Plus, the features are limited.
If you are an individual (or a small-sized company) looking for more affordable alternatives, I have a suggestion:
More affordable proxy providers: Proxyland
Stormproxies' features and high pricing points are not what you had in mind? If you opt for Proxyland, you'll have:
Stable residential proxies

Large proxy pool

No monthly commitments

Excellent uptime (99%)

Budget-friendly price of data: $2.9 for 1 GB

Fast response

Same fast and reliable proxies

Similar features

Unlimited concurrent connections
But at a much more affordable price tag. 
Stormproxies vs. Competitors
Is Stormproxies Any Good?
From my experience and other users' reviews on Trustpilot, Stormproxies is a legitimate company.
Now, whether it's worth your money. While the excellent uptime and fast response are great, I didn't like that the features are limited. 
The number of concurrent connections and the number of computers that can access proxies are limited, as well as the locations.
Also, their proxy pool of 40,000 residential IPs is not the best I've seen. Some other providers, such as Proxyland, offer more than 100,000 residential proxies – and yet, they are cheaper.
Why You Should Try Stormproxies
Safe to use

Satisfactory uptime

Easy to use

If you don't mind limits on the residential proxy pool and concurrent connections
Why You Shouldn't Try Stormproxies
Expensive monthly pricing plans

Overpriced features

If you need a larger proxy pool

Want to monitor your data

Don't want to spend thousands of dollars monthly on proxies

Want advanced city targeting
The Best Alternative to Stormproxies – Proxyland
Commitments for Stormproxies are $300 on average. Proxyland is billed only at $29 for 10 GB of data, and you don't have to bind yourself to huge sums every month.
They offer over 100,000 residential proxies (twice as much as Stormproxies) spanning over 100 countries, which pretty much accounts for any use case out there, including:
SEO and SERP analyses

Ad verification

Web scraping

Sneaker bots

Social media platforms, etc.
Stormproxies Overall Score
Features: They have OK features. ✅
Reliability: Connection to the proxies is stable and without disruptions. ✅
Trustworthiness: Stormproxies is a legit company with a solid reputation. ✅
Ease of use: It's easy to use their proxies. ✅
Proxy pool: Could have been better. ⛔
Price: The pricing is expensive compared to the features and it has monthly commitments. ⛔
Accessibility for small businesses: Not ideal for small companies and individuals. ⛔
So, what's the final grade, at the end of my Stormproxies review? Not impressed.
Stormproxies asks you to make huge monthly commitments and doesn't give much in return. 
A better solution is to go for a cheaper provider, but with a broader scope of features, such as Proxyland.