Hublaagram: 4 Reasons You Shouldn't Use It and What to Use Instead
There are plenty of Instagram automation services on the market today. Some of them work well and deliver upon their promises. Others fall short and are a waste of your time and money. Today, we're going to be talking about Hublaagram.
I usually like to give services of this type the benefit of the doubt in most cases. However, with Hublaagram, I'm going to be pretty straightforward–I don't recommend using this service.
Whenever you choose to buy followers or use an Instagram bot to grow your following, you're increasing your account's risk of being flagged, suspended, or banned.
If you want to grow your Instagram safely and efficiently, there is a company that can provide that without false claims. That company is called Upleap. We've reviewed and compared all of the services on the market today and can say that with confidence – our detailed Upleap review confirms that.
Below are also some of the best services we have tried:

Back to the task at hand…
Unfortunately, this is a basic risk you take when you use a third-party Instagram marketing service. However, if you use Hublaagram, this risk is higher than normal for several reasons.
Nonetheless, I will give you the information you need to make your own decision about this service. In this article, I'll give you the basic scoop on Hublaagram.
We'll discuss some of its key features and pricing options. I'll also let you know why you shouldn't use this Instagram automation service. Keep reading to learn more!
The Basics
Before we get into the details about why you should avoid using Hublaagram, I want to give you some background information on this service.
Hublaagram is basically an auto liker and auto follower tool for Instagram. This service is affiliated with the Hublaa Team. The brand is most known for its Hublaa Liker tool for Facebook.
Reasons Why You Shouldn't Use Hublaagram
While researching and attempting to give Hublaagram a try, I came across several red flags. Because of this, I did not feel comfortable signing up or connecting my Instagram profile to their service. Here are a few of the shady things that I discovered about Hublaagram:
1. It Has No Official Website
The first questionable thing that I noticed while checking out Hublaagram is the fact that this service has multiple websites. When you search for Hublaagram using Google, you are given many results including:
Hublaagram.me
Hublaagram.to
Instagramrealfollowers.com (Contains Hublaagram in the website's search result title)
I visited each of these domains to see if I could figure out which one serves as Hublaagram's official website.
Hublaagram.me contains very little copy. When you visit this URL, you'll see three icons that boast about guaranteed results and simple and easy navigation. These are the only features listed on the page.
If you scroll down, you'll find a message that states that Hublaagram is now an "Application-Based Service." There are also links available for downloading this service's apps and browser extensions.

Hublaagram.to has a bit more copy on its homepage, but no additional pages have been created. When you visit this site, you see several icons that attempt to market this service. They claim that this service can help you get free likes and followers.
Hublaagram also claims that they won't spam you and that their website is safe and secure. You can also find a list of frequently asked questions at the bottom of the page.
This site contains quite a few typos which make the service seem even less credible.
Instagramrealfollowers.com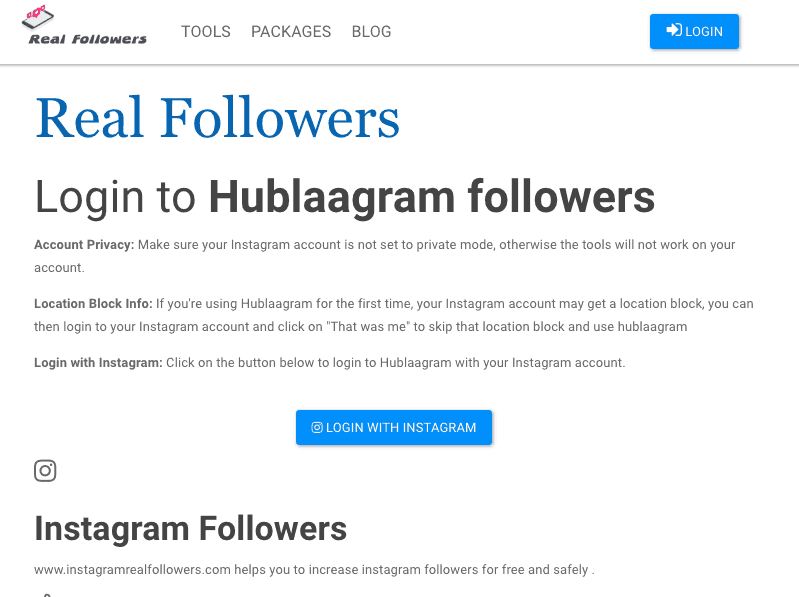 The last related website that I visited, Instagramrealfollowers.com, had much more information than the previous two.
Although "Hublaagram" is not included in this site's domain name, one of the first headings that you see when you visit the site reads: "Login to Hublaagram followers."
This version of the site lists additional features including auto commenting. They also have testimonials, although they do not seem to be real or authentic.
When you click on the "Packages" page, you are redirected to yet another website called "uzhanmedya.com."
All in all, I'm unsure of which site is the real Hublaagram. Each site lists different features and conflicting information.
Instead of spending your time trying to figure out Hublaagram, you should just check out some of the many other Instagram automation tools that are available.
2. It Doesn't Include Many Features
Compared to other similar (and cheaper) Instagram automation tools, Hublaagram does not offer much in terms of features.
The pricing page on Hublaagram.me lists three $20 monthly plans. There are separate plans for using this service with either an Instagram, Twitter, or Facebook profile. All you can do with this tool is like posts.
In my opinion, this is a waste of money. There are plenty of alternatives available that allow you to follow and unfollow accounts, respond to comments, send messages, and more.
With so many better alternatives available, it makes no sense to pay $20 per month to only like posts.
The third Hublaa-affiliated URL I visited, Instagramrealfollowers.com, did list auto commenting as an additional feature.
However, I'm unsure if this is included in the $20 monthly plan because I could not find any pricing information on that particular website.
3. It Has No Targeting Features
Another feature that Hublaagram seems to be missing is the ability to target your audience. This is a very important feature to have if you want to attract real, engaged followers.
Many similar tools allow you to target users in your niche by hashtag, location, and the accounts that they are following. It seems as though Hublaagram's strategy is to like posts at random.
This may help you gain a couple of followers, but they will most likely not engage with your brand.
It's best to stick to Instagram automation services that only interact with users who have an interest in your niche. This is the best way to gain real, loyal followers and organic engagement.
4. The Use of "Gram" In Its Name
Another reason why you shouldn't use Hublaagram is the fact that its name contains the phrase "gram." This may not seem like a big deal, but recently Instagram has begun to crack down on third-party services that do this.
Many people refer to Instagram as simple "Insta" or "The Gram," so these phrases have become synonymous with the platform.
When a third-party service uses these phrases in their own brand name, it insinuates an affiliation with Instagram. Instagram does not even allow its official partners to add "insta" or "gram" to their brand names.
Instagram is known to take legal action against applications that violate this guideline. Companies that continue to do so could end up having to shut down as a result of this legal action.
As a customer, you are at risk to lose any analytics that such applications have collected as well as money if you have already paid for your subscription.
Hublaagram Alternatives you should be using
When it comes to alternatives to Hublaagram, there are several options. Here are a couple of my favorite Instagram marketing services:
I've talked about this Instagram bot before, but it's truly one of the best automation tools on the market.
This particular Instagram bot is powered by A.I. and uses machine learning to figure out the best strategies for growing your account.
Kenji has been featured by several credible publications including Inc., Yahoo Japan, and Social Media Explorer. Its website is easy to navigate and understand.
Kenji's Key Features
One of the key differences between Kenji and Hublaagram is the variety of features that Kenji offers.
Kenji's services include advanced targeting features such as hashtag targeting and location targeting. These features are must-haves if you're trying to grow a niche account or target customers in your vicinity.
You also have the option to set your activity and growth levels to either "high speed" or "maximum speed." This setting affects the number of interactions your account performs per day and the speed at which your account can grow.
Kenji is also equipped with additional features like blacklisting, which lets you choose which users to avoid interacting with. You can also select negative keywords that you would like to avoid targeting as well.
These customizable features make Kenji a far better option for quick Instagram growth than Hublaagram.
With Hublaagram, you'll be interacting with random accounts who may or may not have an interest in your niche or industry.
They may return the favor and like some of your content, but you're less likely to retain them as a longtime audience member.
Kenji's Pricing & Plans
At only $49 per month, Kenji's "Simple" plan is cheaper than Hublaagram's plan for Instagram.
So, for less money, you'll have access to more features and will most likely experience better results. With this plan, you'll have access to unlimited hashtags, high speed, blacklisting, and location targeting.
Kenji also has an upgraded option called the "Pro" plan. This monthly price for this plan is $79. It comes with even better settings and targeting, with auto optimizations for easier setup using our AI recommended settings.
With the advent of machine learning algorithms, Kenji is the pioneer on adding AI on growing your Instagram account organically, which has an edge over the competition due to it's hyper optimized approach on growing your account with the latest wave of trends.
Setup is one of the pains on setting up services like this. With their UI and auto-optimizations, it's very intuitive and it only takes a minute. Give them a try!
If you'd like a services that let's you buy followers with no fuss, then Upleap is a great option for you.
This tool connects you with organic followers, and these followers will engage with you like a real audience would. This will boost your visibility and engagement on the platform, increasing your chances of gathering more followers in the process.
Upleap's system ensures that these followers stay by making sure that the followers being sent to your are slowly added and not sent by bulk. It comes through to your account within a 24 hour period.
Upleap's Key Features
Cheap and affordable prices.
No passwords needed. This ensures that your account is safe.
Fast delivery.
24/7 premium customer support.
Upleap's Pricing
Upleap offers three bundles. They have options for different amounts of followers you want to buy. This gives one freedom on how much they want to grow their personal brands and large businesses.
Upleap's cheapest bundle of followers is at $9. That's less than a cup of coffee!
The next bundle is Upleap's best value proposition. This basically gives you 500 followers for $19. This so far is the most selected option of the bunch.
But it keeps getting better.
The third bundle they have is 1000 followers for $39. This value is insane considering the quality of followers they provide. This is also the highest rated option of the 3 available bundles.
If you're interested in giving Upleap a try, you can check their website here.
Conclusion
Now you some information about Hublaagram and some better alternatives, you can proceed with caution.
If for some reason you still want to give it a try, be careful. I would test it out using a test account before connecting it to your personal or business account.
This tool seems to be shady or still in development. Either way, there are so many alternatives to this service so there's really no need to take the risk.
You May Also Like: A review on Stim Social Instagram automation tool