Instagram Automation: 8 Ways to Grow Your Following in 2020
If you've been searching for a more time-efficient and effective way to grow your following, then it's likely that you've considered using an Instagram automation tool.
When used correctly, these tools, also known as Instagram bots, can boost your number of profile visits, followers, and website clicks. Instagram automation tools accomplish this by interacting with other accounts on your behalf. This helps other users to discover your profile.
Instagram bots can perform a variety of time-saving tasks including liking and commenting on posts, following and direct messaging accounts, and scheduling your posts for peak engagement times.
If this sounds good to you, then you may be wondering how to get started. But before reaping the benefits of Instagram automation, it's important to understand the risks and best practices. Using an automation tool in a way that makes Instagram less enjoyable for other users can lead to having your account disabled or even banned.
In this article, you'll learn 10 rules for using Instagram automation tools correctly in 2020.
Instagram Automation Rule #1: Choose the Right Instagram Automation Tool
All Instagram automation tools are not created equally. Choosing the right one will improve your odds of seeing significant growth and keep your account safe. There are a few characteristics that you should look out for to make sure you're choosing a good automation tool:
Choose an automation tool that adheres to Instagram's limitation rules. Using one that doesn't will draw negative attention to your account and increase your chances of being penalized.
Choose an automation tool with a good reputation. You don't want to make the mistake of picking one that frequently causes users to be banned from Instagram.
Choose an automation tool that is easy to use. You'll defeat the purpose of saving time with an automation tool if you choose one with a complicated workspace.
There are a few great Instagram automation tools available. Here are some of my favorites:
Nitreo
Nitreo is a fully-featured growth service and Instagram bot for those who want the best tools on the market. It does all the standard things like following and unfollowing accounts, but it takes things to the next level with advanced targeting features and a plethora of useful tools like hashtag generator, Instagram audit tool, etc.
Upleap
Upleap is an innovative automation tool that pairs you with a (human) account manager who helps you with growing your account. Your account manager assists you with customizing your targets to best suit your niche.
Upleap has three pricing options that can be paid for on a monthly or yearly basis. They have a Lite plan for beginners and Standard and Premium plans for more advanced users.
Kenji
What makes this automation tool great is the fact that it's powered by A.I. Kenji only connects you with real accounts, so it does a lot to help your engagement rate. With Kenji, you'll gain more followers that will consistently interact with your account.
As I mentioned earlier, this tool gives you plenty of options for selecting your targets. You can set up Kenji to target accounts that use hashtags and follow other accounts that are relevant to your niche. This application offers a three-day free trial so you can test it out for yourself!
Instagram Automation Rule #2: Don't Automate Everything
Although Instagram automation tools can perform a variety of tasks, it's best to keep some of your interactions 100% organic. Automating too much of your Instagram activity is a sure way to draw attention to your account. Use automation sparingly to avoid penalization.
The best actions to automate on Instagram are posting, liking photos, and following/unfollowing. Automated direct messages and comments are easy to spot and will damage your brand's reputation.
We've all seen those comments under Instagram posts that seem out of place and inauthentic. Examples of such comments are those that are very vague and generic and comments that are completely irrelevant to the original post.
Automated comments usually come in the form of a simple word or phrase like "Awesome" or "Great pic." Sometimes bots will leave comments that consist of emojis and no words.
Most users ignore spam comments, and they're very unlikely to follow the accounts that leave them. Some users may even block or report your account, so keep your comments and messages genuine.
Ultimately, the use of automation tools should only supplement your Instagram growth strategy. Running an account that is completely automated robs you of the experience of interacting with your online community.
Instagram Automation Rule #3: Clearly Define Your Targets
When setting up an Instagram automation tool for your account, it's best to target users who are a good fit for your niche or industry. Clearly defining your target users will enable you to connect with users who are more likely to organically engage with your brand.
For long-term Instagram marketing success, you want to gain followers who are actually interested in your content. If you're too broad when selecting your targets, you may end up with a high number of followers, but you will have a low engagement rate.
Most Instagram automation tools allow you to set up filters based on gender, location, and activity level when defining your targets. Some tools, like Kenji, even allow you to define your targets based on the hashtags they use and accounts they follow. These features are great for connecting with users who already have an active interest in your niche.
Instagram Automation Rule #4: Don't Buy Followers
Many people confuse using an Instagram automation tool with buying followers. Although purchasing an instant following can be tempting, it's in the best interest of your brand to avoid doing so.
One of the main reasons for this is the fact that Instagram is cracking down on bots. Every so often, the platform does a purge to get rid of fake accounts.
If your most of your followers are bots, you'll see your following drop overnight during these purges. Being caught with fake followers can also really damage your brand's reputation. And of course, you'll increase your chances of having your account disabled or banned.
Furthermore, if you are growing your Instagram account to market a product or service, bot followers won't do you any good. These accounts are usually inactive and not located in your country. The likelihood of converting bot followers into engaged audience members or customers is slim to none.
It's also very easy to tell when an account's following is fake. The most obvious sign is when your follower count and engagement rate don't seem to match up. For instance, you may have 20,000 (bot) followers while only receiving 100 likes and 2 comments per post. This makes it obvious to authentic users visiting your profile that you have purchased followers.
When you use an Instagram automation tool for gradual growth, you'll gain real followers who are active on the platform. If you select the right targets and create valuable content, these followers will stick around and organically engage with your brand.
Although building your following takes more time with this method, you'll enjoy more consistent and long-term success this way.
Instagram Automation Rule #5: Monitor Your Following to Follower Ratio
When using an automation tool, it's important to keep an eye on the number of accounts you're following. Instagram limits users to following 7,500 accounts, but it's not a good idea to follow that many.
There's an unspoken rule that popular Instagram accounts should have a higher follower count than following count. If you take a look at some of Instagram's most popular accounts, you'll notice that most of them are following less than 500 other accounts.
It's okay to follow more than that depending on the number of followers you have. A good guideline is to stick to a follower to following ratio of 2:1. For example, if your account has 5,000 followers, then you should be following no more than 2,500 accounts.
Avoid following every account that follows you. If your following and follower numbers match, your account will look like a "follow for follow" account. You can gain followers this way, but it leads to two problems.
The first problem is that users will follow you to gain a follow back rather than for your content. You will also put a cap on the number of followers you can gain due to Instagram's 7,500 following limit.
If you choose to automate following other accounts, then be sure to track your ratio and unfollow accounts manually as needed. This will make your activity seem more organic.
Instagram Automation Rule #6: Only Use One Automation Tool at a Time
Some users make the mistake of running more than one automation tools at once. This is a risky move, and it doesn't do much to grow your account.
First of all, you'll be more likely to exceed Instagram's hourly interaction limits if you have more than one bot running at once. Repeatedly crossing these thresholds makes it more obvious that you're using an Instagram automation tool. This will increase the risk of having your account banned.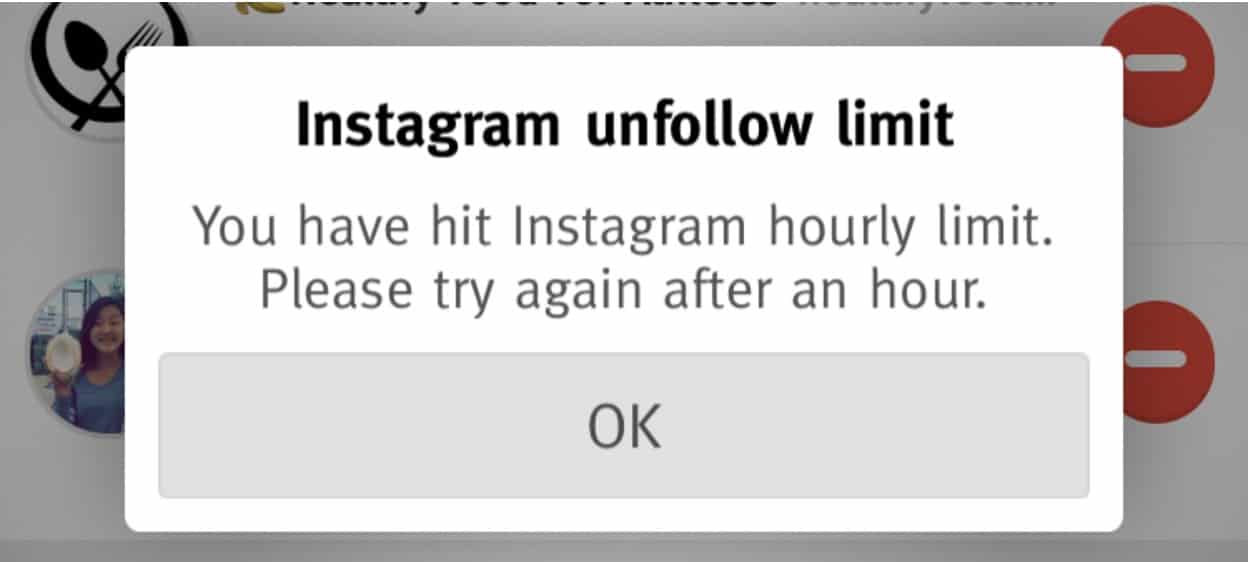 Using more than one automation tool can also make your account seem spammy and fake. With Instagram's interaction limitations, there won't be much room for manual, organic activity from your account. This means that your account will have to be completely automated.
It's best to stick to one automation tool at a time and to use it minimally. It's okay to test out different tools before committing to one. Just be sure to disconnect any previously connected tools from your account before adding a new one.
Instagram Automation Rule #7: Don't Be Too Aggressive
One of the biggest mistakes that Instagrammers make when using automation tools is using them too aggressively. Those who make this mistake often expect automation tools to grow their accounts overnight. However, instant growth with an automation tool can cause Instagram to flag your account.
Technically, most Instagram automation tools are against Instagram's terms and conditions. However, utilizing such tools for steady, passive growth isn't likely to draw much attention to your account. The key is to avoid spamming other users.
Instagram has several limits in place for user-to-user interactions. These guidelines limit the number of interactions (follows, likes, comments, and messages) you can perform each hour. Once you've reached this limit, you'll receive a notification informing you that you can no longer perform a certain interaction for a period of time.
Accounts that consistently go over these limits, can trigger Instagram's detection tools. This can lead to having your account disabled or banned. The growth that you may receive from this type of activity will be meaningless if you have to create a new account, so use automation tools moderately.
It's best to set interaction limits that are realistic and effective for your account. Rather than taking the overly aggressive approach, begin by automating a number of interactions that is similar to your daily manual usage. Over time, you can increase these limits (as long as you adhere to Instagram's guidelines).
Taking a gradual, passive approach to using Instagram automation tools keeps your account in good standing. It also makes your interactions and growth seem more authentic.
💡 Related Post: How to get more likes on Instagram
Instagram Automation Rule #8: Focus on Creating Valuable, Consistent Content
Creating quality content should be your main focus if you want to see real growth on Instagram. While an Instagram automation tool can do the work of getting your profile discovered by other users, it's up to you to retain this audience.
It's a great idea to spend the time you save with an automation tool creating valuable content. Not only does this help you to convert the audience that the automation tool delivers into real, engaged followers, but you'll also be growing your audience organically at the same time.
Earning organic followers and engagement will decrease the likelihood of having your account flagged for using Instagram automation tools. It will also make the engagement you receive due to your automation tool seem more genuine.
In addition to creating valuable posts, you'll also want to make sure that you're posting consistently. Gaining thousands of followers with only a few posts will make your account seem fraudulent. This will turn away organic visitors and damage your brand's credibility.
Focus on creating posts that will educate, inspire, or entertain users within your niche to maximize the growth of your following.
You May Also Like: